in Jasman Saidin case the trial proceed
ex parte
(refer image below)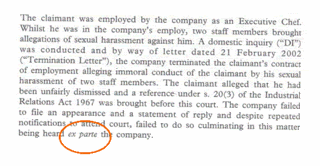 but what is
ex parte
?
the word derieved from Latin. or in Bahasa Malaysia,
Pada bahagian sebelah sahaja. Contohnya, satu ex parte injuksi adalah satu injuksi yang diberi selepas mendengar hanya pada pihak yang memohon.
Bagi pihak. Istilah ini digunakan pada tajuk laporan undang2 bersama dgn nama orang yg membuat permohonan kpd mahkamah dlm kes yg dipersoalkan.
To summarize
Samada plaintif atau defendant tidak hadir ke Mahkamah Buruh setelah berjuta2 kali cuba dihubungi maka keputusan mungkin berpihak pada pihak yang hadir sahaja.
So dats happened in the above said case, where the employer Hotel Istana fail to turn up to the proceeding at Labour Court.